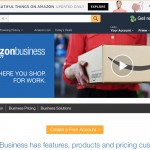 We first highlighted Amazon as a viable option for purchasing tooling and supplies your shop uses everyday. At that time, most major brands had products listed, but the traditional Amazon checkout process lacked when it came to business buying. That changes with the introduction of Amazon Business. Now purchasing through the largest online reseller just go easier with these highlights:
FREE 2-Day Shipping on orders over $49
Special pricing on business products
Tax-exempt purchasing
Purchasing system integration
Shared payment methods
Order approval workflows
Enhanced order reporting
To sign up, visit www.amazon.com/business and signup for a free account.