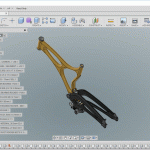 We review a lot of great products but this one has us scratching our heads… in a GOOD way.  Fusion 360 is a fresh yet comprehensive approach to product development sure to give all CAD competitors a change of underwear.
Users of Autodesk Inventor and HSM Works will find themselves in a familiar environment.  Solidworks users will too find the interface intuitive but a different set of terminology is the biggest curve to overcome.  On the topic of Solidworks, Fusion 360 comparatively doesn't have the full depth of tool set of it's French competitor, but it does boast five working environments (model, render, animation, simulation, 3D cam) at a fraction of the price.  Fortunately, any features the software lacks are quickly addressed by the Autodesk team – Expect significant upgrades at a nearly monthly basis.  In the few months that we evaluated the software, keyboard shortcuts, cam support for cnc turning and FEA simulation were just a few of the major upgrades to the software.
In our review we were able to sprint over the learning curve and designed parts within a day.  An active and enthusiastic user base along with dozens of tutorials on YouTube makes learning a personal experience.
Here's the best part:  Fusion 360 is free for students, enthusiasts, hobbyists, and startups.  Fusion 360 is as low as $25 per month on an annual subscription, or $40 month to month for companies grossing over $100,000.  Start a free 30-day trial here and try it out on your Mac or PC. With in-product tutorials, you'll be up and running in no time.