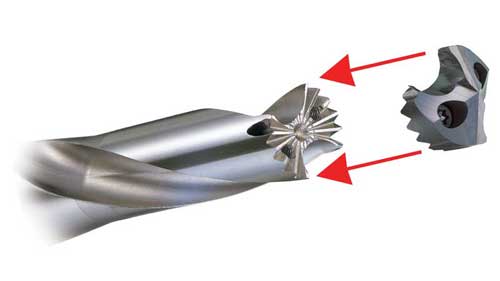 Go ahead… keep buying those conventional drills after they burn up. OR, buy carbide tipped drills for better performance, longer life and lower ongoing cost.
Sumitomo Electric Carbide, Inc. recently expanded the SMD replaceable carbide tip product line by adding an 8XD drill to their 3XD and 5XD lineup. The SMD nickel-plated body provides longer tool life than conventional replaceable tip drill bodies. A rigid serration coupling system affixes the replaceable carbide tips to the drill face, improving drill accuracy and repeatability.
Along with the drill body expansion, Sumitomo now offers three drill tip styles to improve the performance in a variety of materials. The SMDT-MTL drill tip excels in steel applications, while the SMDT-C has a chamfered edge to eliminate break out in cast iron applications. The SMDT-MEL machines super alloys, stainless steels and cast iron proficiently. All three tips are covered with a newly developed coating that enhances wear resistance and tool life.
The SMD is available in metric and inch diameters ranging from 0.4688" to 1.2008". Multiple drill tip sizes fit a single drill body to aid in the reduction of tooling inventory costs.
For more information, contact Sumitomo Electric Carbide, Inc., 1001 Business Center Drive, Mount Prospect, IL 60056, Phone: (800) 950-5202, Fax: (847) 635-9335, e-mail: info@sumicarbide.com, or visit the Sumitomo Web site at www.sumicarbide.com.