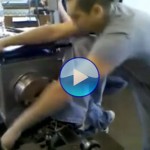 We're posting a gnarly video below (PG13) that is bound to cause any one of the following reactions: horror, shock, laughter, amazement, fear, anger, sadness, judgement or frustration.  You might experience one of the aforementioned, but does it end there?
In our consumer/entertainment driven society our brains are slowly being trained to see things and well, not think about it. Take Jersey Shore for example – once it became a national obsession we knew a shift had occurred that told us we were taking everything in without outputting any useful action – with the exception of those of us who learned to weld from watching American Chopper.
So, watch this video and please do the opposite of society… THINK about your safety and the safety of others around you. Get everyone together and have a chat.  Thinking about safety never made anything more dangerous.