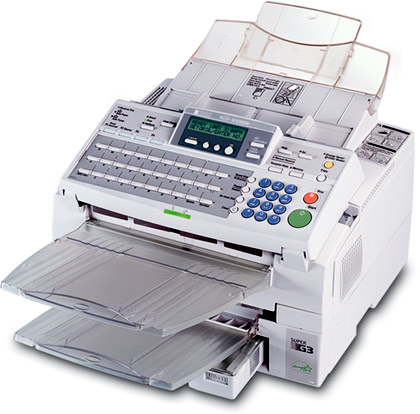 The fax machine is a powerful tool that gained widespread use in the 1980's, but with email becoming a far superior method of transmitting documents, the fax is quickly becoming an archaic, yet necessary component to the modern office. Though I would personally love to eliminate its use altogether, it remains so easy for anyone to load a piece of paper in a chute, dial a number, press a button and walk away. I admit that faxes are possibly here to stay for another decade, but let's at least give a facelift to this old technology.
A few years ago I spent some time helping my father move out of his shop as he entered retirement after a 30 year career as a sheet metal shop owner. Among the typical things you would expect to find were vast amounts of documents that had been accumulated and archived over the years. Boxes upon boxes of invoices, purchase orders, faded faxes, material certificates and receipts easily amounted to hundreds of pounds of paper alone! We reminisced while thumbing through old blue prints (yes, literally the blue ones) dating back to June 1979. Why someone would hold on to documents for so long baffled me. "Out of sight, out of mind" was his answer. However, it did motivate me to ensure that such a useless (and somewhat hazardous) stockpile never occurred in my company.
Our ability to reduce paper consumption is not only appealing to environmentalists, but can eliminate unneeded filing and clutter around the office saving us time and money. For now, let's start with the fax machine – one of the worst paper-spewing culprits.
Going Digital
A quick internet search for "faxing services" will provide at least a dozen companies that offer online faxing services that are meant to replace the traditional fax machine. Here's how they work. At signup, the faxing service provides toll-free and local telephone numbers to select for your new fax number. After some basic setup and activation, a sender can dial your new fax number and send as usual, but now the fax will be conveniently delivered to your email inbox typically in the form of a widely used .PDF file. When viewing these files they'll look like what you would expect a traditional fax to look like. However, these services truly shine not just in their ease of receiving faxes, but storing them as well. I personally have every fax ever sent and received at my company since 2003 conveniently saved in an email folder called "Faxes". If you've ever seen anything printed on thermal fax paper you'll know that their tendency to fade makes it nearly impossible to read beyond a few years.
Sending faxes is easy and convenient as well. Suppose you have an invoice you want to send to a customer. Instead of printing the invoice to fax it, you simply save the file (this is assuming you are creating invoices with QuickBooks, Microsoft Word, Excel or another program) and attach it to an email addressed in a format such as (AreaCode+FaxNumber)@AnyFaxingService.com. Your customer will receive the crystal clear fax on their traditional fax machine within a few minutes.
Sign and Fax Back?
So far we've eliminated the fax machine, a second phone line and reduced paper consumption. But, what happens when we have a document needing to be signed and faxed? It would seem like this scenario would require you to hang onto the old fax machine for those times. Some software programs like Adobe Acrobat allow you to digitally sign a document, but the ability to scan an existing page with a document scanner is a better tool.
Document scanners are devices that loosely resemble copiers minus the paper trays and toner components. Most reasonably priced scanners ($50 to $75) come with built-in capabilities that allow you to create ready-to-email documents with the push of a single button. Insert document, press button, select and email the file to your recipient's fax number and you're done. They're definitely a must-have tool to complete the transition.
With a bit of spare time, the transition to online faxing services should be as easy as tossing out a box of 30 year old blueprints.