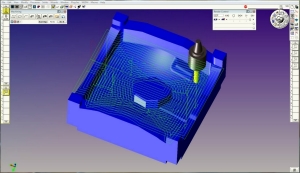 Gibbs and Associates, Moorpark, CA announced the availability of GibbsCAM VoluMill Solids, an option for the high-speed-machining of solid models directly within GibbsCAM. The VoluMill Solids option – an incremental enhancement to the GibbsCAM VoluMill Wireframe option – is integrated within GibbsCAM and lets users select solids, surfaces, and facet bodies, to generate HSM toolpaths
Other features include:
• Programmed rate of material removal to keep tool and work piece temperature consistent, and to dissipate heat with chips;
• Automatic feed rate adjustment and automatic depth of cut to maintain programmed material removal rate, eliminate excessive material conditions, and minimize tool wear, heat build-up and vibration;
• Intelligent side milling and slot milling – with programmer override – to provide the fastest possible cycle time, with feed rates and Z-depth adjusted in slot milling for constant material removal;
• Smoothing radius to maximize tool use, minimize cycle time, and extend programming flexibility;
• Contour ramping to maximize material removal in tight areas, with safe access, while minimizing cycle time; and
• Up to 100 percent step-over for cleanup without leaving any material standing.
For more information about GibbsCAM go to www.GibbsCAM.com.