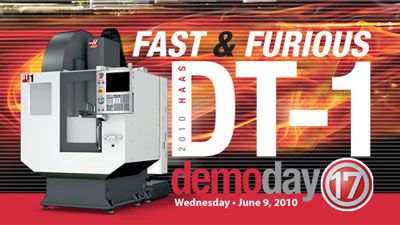 Mark your calendar for June 9, 2010, when your local Haas Factory Outlet will host a "Fast & Furious DT-1" Demo Day event. Check out our new Haas DT-1. It's our first-ever Drill and Tap  Center, and it boasts full milling capabilities and a "that's awesome" price. Change tools in just 0.8 of a second. Rapid at 2400 ipm with 1G axis acceleration. Run the spindle at 15,000 rpm and rigid tap to 5000 rpm. See it moving fast and furious at your local HFO June 9.
You'll also see other new Haas machines, including our totally redesigned VMCs and all-new ST-series turning centers that can fulfill every shop's need for improved production. While you're there, grab a limited-edition Haas CNC T-shirt (while supplies last) – only available at your local HFO on DD 17.
For more information, visit the Demo Day Site to find a participating HFO near you!