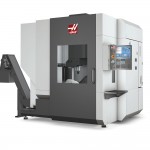 We all know about vertical and horizontal machining centers, but the newest innovation from Haas Automation is their Universal Machining Center know as the UMC-750.  The machine is a 5-axis 40-taper vertical machining center with an integrated dual-axis trunnion table with travels of 30″ x 20″ x 20″.
The UMC-750's dual-axis trunnion table can position parts to nearly any angle for 5-sided (3+2) machining, or provide full simultaneous 5-axis motion for contouring and complex machining. The trunnion provides +110 and -35 degrees of tilt and 360 degrees of rotation for excellent tool clearance and large part capacity, and the 630 x 500 mm table features standard T-slots and a precision pilot bore for fixturing.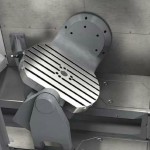 The machine's 8100-rpm inline direct-drive spindle is powered by a 30-horsepower vector drive system. For shops wanting higher spindle speeds, an optional 12,000-rpm inline direct-drive spindle is available. Both spindles yield 90 ft-lb of cutting torque.  As of today the price tag is just short of $150k.  For more details visit Haas Automation.
This machine is definitely one to watch.  Stay tuned…