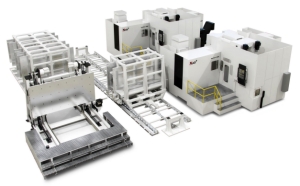 MAG Industrial Automation Systems, Erlanger, KY, received an order for two HyperMach H4000 5-axis horizontal profilers, and other auxiliary equipment, valued at approximately $6 million, from Shanghai Aircraft of China, to support production of the new ARJ21 aircraft.
The machines purchased by Shanghai Aircraft are equipped with a 27,000 rpm spindle, capable of metal removal rates of 500 in3 per minute on aluminum plate or forgings. The machines will operate in an automated cell with a rail-guided vehicle, load/unload station, pallets, and auxiliary equipment that will sequentially load and unload parts.
The ARJ21 is in flight test and is working toward commercial flight certification. The MAG HyperMach H4000s, and an additional high-torque 5-axis aerospace machine, are scheduled for installation in Q1 2011. The machines are expected to be used advance production and test parts for the much larger C919 commercial aircraft currently in development by the Chinese.