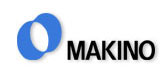 MASON, OHIO – December 2007 – Makino has released its 2008 first quarter webinar schedule, kicking off the new year with topics such as EDM for Aerospace and Automated 5-Axis Machining.
Makino's Online Seminar Series began in 2005 and is the only expansive educational program offered by a machine tool builder free of charge. Thousands of shops have attended the over 60 webinars already broadcast.
All webinars are broadcast at 11 a.m. Eastern at www.makino.com/events. Each webinar consists of a 20-45 minute presentation and a Q&A session with the speaker. Registration is required to attend, but all webinars are presented free of charge.
Q1 2008 Schedule

Jan. 17 – EDM for Aerospace, Part 2 –Jeff Kiszonas, EDM Product Line Manager, will discuss recast layer, heat affected zone (HAZ), micro cracking, and micro-hardness test results. ThisJan. 24 – Automated 5-Axis Machining – Automation and five-axis machining continues to gain popularity due to their favorable impact on productivity and manufacturing cost reduction. This seminar will illustrate how to combine both technologies to achieve high productivity while also providing outstanding flexibility and ease of use.
Jan. 31 – Surface Wizard Wire EDM Technology – The latest advancement from Makino in Wire EDM control technology virtually eliminates witness lines in parts with variable and sudden changes in thickness or shape.
Feb. 14 – Unique Solutions for Shaped Fine Hole Machining – Learn about Makino's new solutions for machining shaped fine holes and how this process can benefit your manufacturing operations.
Feb. 28 – How to Get the Most Out of Your Work Zone – Hear how Makino achieves greater productivity and high quality production by maximizing utilization of the entire work zone of a horizontal machining center. There are multiple elements to consider, from machine design to processing techniques and technologies that can be applied to improve your bottom line. Learn how you can achieve accurate results, even while cutting high in the Y- axis.
March 13 – Remote Machine Monitoring – Your shop is closed, but the machines are still running. See how you can monitor your shop's production from anywhere with an internet connection.
March 20 – Hardmilling and Wire EDM, Complimentary Processes