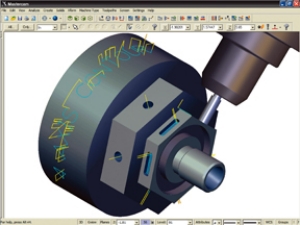 CNC Software, Inc., Tolland, CT, released Mastercam X4 Lathe, a suite of CAD/CAM tools for machining jobs. Each piece of geometry created in the application is "live," allowing modification. Other features include
• "Quick Toolpaths" for programming parts with a few clicks;
• Optimized facing including roughing and finishing;
• Complete threading with multiple starts, diameter calculation, and user customizable thread tables;
• Full 3- to 5-axis milling, including machines with B-axis tooling arms, in addition to turning;
• Grooving with multiple depth cuts and pecking;
• Simplified assignment of groove depth, width, wall angles, corner radius, chamfer, and corner dwells;
• Stock recognition for optimized turning toolpaths with minimal user interaction;
• Comprehensive lead-in/lead-out controls to minimize the need to modify the CAD model to control tool motion; and
• Steady rest option that supports long work pieces, minimizing deflection from tool pressure and material weight.
For more information about Mastercam X4 Lathe, visit www.mastercamlathe.com