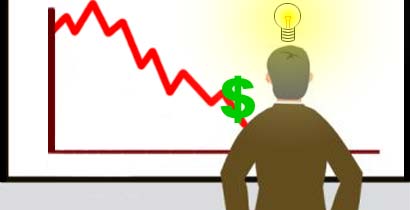 Housing slump. Creditor woes. Iraq. Iran. Manufacturing slowdowns. Talk of recession. There's plenty of news to get discouraged over the state of the US economy, however the sharp entrepreneurial shop owner recognizes an often overlooked opportunity to grow their business. With the Federal Reserve lowering interest rates yet again this past week, expanding your business is becoming less and less costly than it has in recent times.
Taking on inexpensive debt for machinery purchases has less financial impact on your bottom line than in times of strong economic growth. When times are good interest rates are high; when times are slow rates are typically lower. Recessionary times are cyclical and it is pure foolishness to not recognize that the economy that you do business in will soon turn upwards again.
Look at it this way. Every shop can get slow even during economic highs. These anomalies typically last a week or two – these slowdowns are part of your shops micro economy. Shop owners and employees typically sweep a little more, organize some paperwork, polish tools and give machines a thorough cleaning – basically improving the shop and preparing for when the purchase orders do resume. Just as a micro economic slowdown causes shops to switch into improvement mode, why should a macro economic slowdown be treated any different? Recessions are the perfect time to sharpen and expand. While everyone else is circling the wagons, it's time to venture out and explore. Let's take a look at this graph: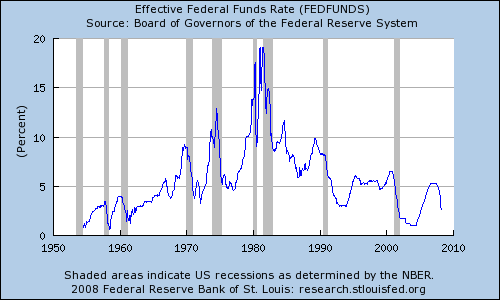 The grey bars are periods of economic recession and the blue line represents interest rates over roughly the past 60 years. One thing you'll notice is that interest rates are higher right before a recession hits and conversely interest rates drop significantly prior to the economy exiting a recession. But look at what has happened in the last year. Interest rates have dropped, yet the US economy has not entered into a recession. (A recession is officially determined after two consecutive quarters of negative economic growth. The US has not yet had one quarter of negative growth this year.) The Fed is moving the interest rate in similar ways as it does to end a recession!
So what does this mean for a business owner? Now is a perfect time to expand with the help of inexpensive loans and lenders are more eager than ever to lend money. We're not in a recession, but money is as cheap as if we were. With the direction interest rates are moving, the US economy is slated to make a strong comeback this year. The sleeping business owner might snooze through this perfect opportunity to become a manufacturing powerhouse or likely wake up to the sound of the gavel at their own company's auction. Your customers will appreciate your eagerness as well. Would you want to give work to a sluggish and groveling vendor or one that is optimistic and ready to offer better service than ever before?
The bottom line… Get out there and expand before someone else does!