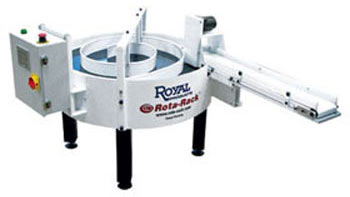 So, you have a fast and powerful lathe… possibly added a barfeeder for extra production. But there might still be a major bottle-neck. What happens to the parts once the machine spits them out? Parts catcher? Maybe, but what if you want to run unattended or the catcher basket is overloaded due to larger part sizes? Royal Products may have a solution.
The Royal Rota-Rack offers a lean, cost-effective method for safely collecting finished parts as they come off of a CNC lathe, providing true unmanned production.
Features include:
A unique rotary spiral that safely directs parts to the center of the turntable
A low-friction UHMW material coats the turntable for superior part protection
The Royal Rota-Rack is especially good at protecting straight edges of milled parts – often a difficult task with other collection methods
No machine interface is required – unit plugs into a 110v outlet and the operator sets the index interval with a simple timer
The degree of rotation is also easily adjusted, enabling the Rota-Rack to handle short and long parts
Large capacity – three foot diameter turntable provides over 1000 square inches of surface area
Heavy-gauge steel construction enables the Rota-Rack to handle up to 700 lbs. of parts
Universal design adapts to virtually all CNC lathes due to features such as Left/Right spiral options, optional conveyor with coolant tray and Height-adjustment from 16" to 48"

The Royal Rota-Rack offers a real benefit to shops that are looking to gain a competitive-edge by running their CNC lathes unattended. The Rota-Rack is reliable, doesn't take sick days, and enables your machines to keep running long after your last employee has left for the night or weekend. And with very competitive pricing, the Royal Rota-Rack typically pays for itself within the first few months of use.

For further information, download Royal's Product Brochure (468Kb PDF).