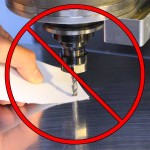 Taking tool offset measurements is a must-know skill for any machinist, but who knew there were so many ways to do it.  If you're the type that doesn't need some fancy probe do your job, this week's shop tip will show you the safest and most accurate way to measure offsets.
For some reason, the most popular method taught in most trade schools is to use a piece of paper as a feeler gauge.  This method isn't good for several reasons: Paper thickness varies by several thousands, it's messy and worthless once it's wet and jogging the tool close to the part is too risky (a twitch of the wrist can end up with a broken tool and damaged part).
Here's a better method that uses gauge blocks that will leave you with an accuracy of about .0001″ (depending on the jog increment of your machine).
Jog the tool within 1/2″ of the top of the part.
Push a .500″ gauge block next to the tool and start jogging the tool up in .01″ increments.
Once the tool clears the block, move the block aside and jog it back down a few clicks.
Change the jog increment to .0001″.
Again, push the block against the tool and start jogging the tool until the block clears.
Record your offset in the control and subtract .500″.
There it is… you've just measured your tool offset length to within .0001″.
Do you have a Shop Tip you'd like to share?  Email us at shoptips@cncreport.com.