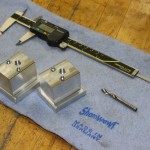 No, the ShamWow guy did not pay us to post this tip.  But, we're recommending this German made towel as this week's shop tip for several reasons:
Absorbent – Take wet parts out of the machine and set them on the towel.  By the end of the day, you won't have a puddle on your bench.
Soft – Placing calipers on a soft surface is one of the first things you learn in trade school.  Carbide tools also like a nice landing spot too.
Available – You don't have to wait for the infomercial to get their number.  Many auto part stores now carry a variety box with several sizes.
Better – Definitely beats any other reusable towel on the market.
Have a shop tip of your own?  Share it with us at shoptips@cncreport.com.