**UPDATED POST** We're adding more apps at the bottom!
Seems like every pocket these days has a smart phone in it.  Machinists are no exception.  Here's our short list of recommended Android apps for machinists in no particular order:
Hobby Machinist Calculator
Developer: My Hobby
The strength of this app is it's simplicity.  It has simple calculations for milling, turning and a handy scrolling tap drill chart.  The navigation needs a little bit of tweaking though.  For example, filling out one field and pressing the "next" button takes you to a totally unrelated field.  We're hoping an update would fix this along with adding a metric tap chart.  Overall, not a bad app for a first time developer. Download it here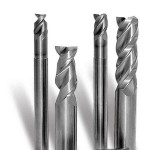 Feeds and Speeds for Milling
Developer: CamUser
The title says it all, but dig deeper and the nice thing about this app is the ability to save your machine's max RPM, max IPM and max HP.  With this information stored, simply plug in some details about your cutter and the type of material you want to cut and the app figures out your starting figures for RPM, feedrate, radial and axial DoC and required HP.   It's up to you to verify and tweak the numbers for your application.  Overall, very nice app.  Here's a link to the free version, but the pro version is definitely worth the $1.99.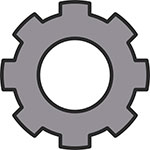 Speeds and Feeds Calculator
Developer: Workman Apps
Inevitably, you'll run across this app.  It's basic but contains all the necessary calculations for machining.  Of course, we're biased toward our own online feeds and speeds calculator, but this is a handy one for your pocket. There's nothing pretty about this app, but the rough interface still gets the job done and that's what we like about it.  Download it here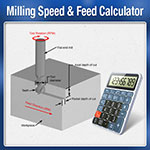 Milling Speed Feed Calculator
Developer: Capacity Web Solutions
Simple and polished app that's a great fit for new machinists.  A built in help page gives a nice description of the different calculations and the actual formulas are displayed as you enter the numbers.  Like other 1.0 versions, this one needs a little bit of polishing when it comes to navigation as the "next" button jumps to other unrelated fields.  The developer is working on adding more calculations for milling.  Still a good app that we wouldn't turn anyone away from.  Download it and see for yourself.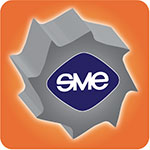 MillTurn Calc
Developer: SME
The bottom line on this one… SO disappointing!  This app caught our eye because it was produced by the Society of Manufacturing Engineers, a respected organization that we thought would set the bar for other apps.  The interface is ok and it has a handy materials reference page for finding the right surface feet per minute, but the only calculation in the turning section available is for… you guessed it… surface feet per minute.  Redundantly worthless!  The milling section also only lets you find inches per revolution.  Shame on a good organization like the SME for releasing the worst app we found.  Sorry, we're not posting a download link for this one.
Machinist's Calculator
Developer: Trades Math Calculator
We may have saved the best for last.  While the other apps we've covered offer basic F&S calculations, this one also solves common trigonometry in an easy to use format.  It even provides X-Y coordinates for bolt hole circles.  Yes, other apps are free and although this one will set you back $3.99, we feel it's definitely worth every penny.  Good developers need to be supported and TMC definitely got this one right.  Buy this app here
***UPDATED***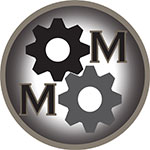 Machining Mate
Developer: Arkatek Studios
Our faithful CNCReport.com reader named "John" turned us onto this app which is now the reigning champ.  This app isn't perfect, but carries all  the tools a machinist would want.  The one thing we wish it did was give a two way reference for drill sizes.  As it is, you can only enter the drill letter or number to get the decimal equivalent but not the other way around.  Grab this great app for FREE here.