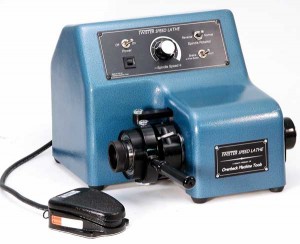 Any long time reader of CNCReport.com knows that we are always fans of unique products that boost productivity. The Twister Speed Lathe by Overbeck Machine Tools ranks among our favorites. Not only does it boost productivity through time savings, but also through lower energy costs and reduced floor space.
The time saving element is almost obvious: If you currently use a small engine lathe to deburr / polish you will cut your start-stop cycle time in half. If you spend 10 seconds processing a part, your operator is spending 4 hours a day waiting for your machine to start and stop. The machines start and stop up to 31 times a minute, less than half the time needed for a small tool room lathe! Plus, because of its benchtop footprint, the Twister requires less movement by an operator which leads to faster part throughput.
The Twister shines when it comes to lower utility bills. Using single phase 110V, its energy consumption is less than 20% of the energy needed for a tool room lathe. A Twister uses about .8 KWH during an eight-hour workday. A tool room lathe uses about 4 KWH during the same time.
Finally, the twister is the perfect alternate solution for secondary operations that would typically be done on a toolroom lathe. The smaller model (LT-1BR) needs only 1 sq. ft. of workbench space, while an average toolroom lathe requires a minimum of 12 sq. ft.
It's a no-brainer when it comes to operations such as polishing, deburring and light turning. Its use of 5C collets allow for instant shop integration. For ordering information, visit www.RoviProducts.com for more details.